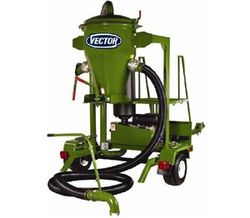 AGRICULTURAL VACUUM SYSTEMS
Contact : Mr. CECIL SAMUEL Tel # : 00971 2 6737900

Website : http://acecentro.com/

Cell # : 00971 55 5180550 Email : sales@acecentro.com

AGRICULTURAL VACUUM SYSTEMS
Ace Centro Enterprises (ACE) is a professional European organization offering a broad spectrum of innovative engineering products to the Petrochemical, Mining, Marine and Civil Construction sectors. ACE is the only organization in the region that offers ex-stock availability of high powered industrial vacuum systems and pneumatic conveyors.
With years of experience to its credit, ACE is well positioned to offer engineering solutions in the field of vacuum extraction. Be it a civil jobsite, underground mining work in a tunnel, a petrochemical oilfield installation, or an offshore / marine project, ACE can offer quality equipment from a wide range of powerful industrial vacuums available in liquid propane, gasoline, electric and diesel power options. These air and hydro vacuum excavators are built in skid, crane, truck and trailer mounted configurations and upon client request, can be provided with Third Party Safety Certification, as well as, Zone I and Zone II compliance.
Our Rental Solutions Dept. supplies specialized vacuum equipment, accompanied with skilled Machine Operators, on long and short term basis, with comprehensive support in terms of onsite consumable spare parts.
Site conditions:
- Materials such as wood shavings, sand, gravel, compost, sludge, glass and grit debris are strewn across a radius of 30 m.
- Wet and dry materials need to be separated.
- Extraction of such materials is usually done by multiple personnel, thereby consuming time, making it expensive and could cause personal injury.
- Use of costly lifting and handling equipment is often required.

Solutions and benefits:
- The powerful All Vac can vacuum wood shavings, sand, gravel, leaves, compost, mud, sludge, glass and grit debris.
- Portable industrial vacuum machine designed to handle wet and dry materials.
- Cost effective vacuum system with a horizontal working distance of over 30 m (100 ft.).
- Blower protection facilitates handling the dirtiest product.
- Can fill 0.14m3 (5 ft3) in the hopper within 3 minutes.
- The All Vac portable Industrial Vacuum machine can be easily operated by one person.
- Trailer mounted unit with torsion axle suspension, can be easily towed on site.
- 24 HP Honda petrol engine with industrial grade muffler for less than 90 dB noise level.
- Dual 5" inlets on either side of the tank which are reducible to 3" or 4" outlets.
- Impact-resistant steel holding tank that can be easily emptied into a wheelbarrow, trailer or skid loader.
- There is an optional "Leaf Barrel" to hold 0.28 m3 of material for light fluffy products and products that tend to bridge-in at the cone.

Through its sales organization in the Arabian Gulf, ACE supplies vacuum extraction systems and pneumatic conveyors to its clients in the Middle Eastern and African markets for material handling, conveying of debris and underground metro / mining projects.
Please contact us on +971 55 5180550 or sales@acecentro.com with your requirements and we will be glad to provide you with an offer to suit your project.