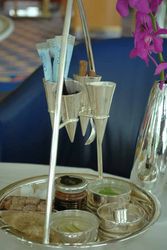 Fabrication and Supply of hotel amenities
We are the best company in the supply of hotel amenities in the U.A.E.

WE DO FABRICATION AND SUPPLY OF AMENITIES LIKE: AFTERNOON TEA STAND, NAME TAGS, MENU TAG HOLDERS, NUT STAND, BREAD BASKETS, OYSTER STAND, NAPKIN HOLDERS, TISSUE BOX, ABAYA HANGER, BELLBOY TROLLEY.

WE ALSO DO RE-POLISHING AND GOLD PLATING / SILVER PLATING / MAINTENANCE OF HOTEL AMENITIES.