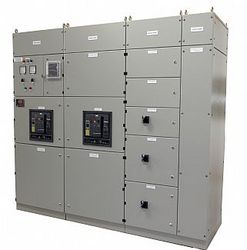 ELECTRICAL SWITCHGEAR
Separation up to Form 4, Type 1 to 7



· Rating 630A to 3200A

· Ample cabling space for easy connections

· Top and bottom cable entry.

· Panels for front access or front/rear access construction

· Protection class IP41- IP54

· Ambient temperature rating 50° C



Technical Data:



INCOMER:

ACB, 3/4pole, 1600 to 3200A, 65 to 85kA, fixed or

drawout pattern, manual or motor operation.



BUS COUPLER:

ACB as above with Elect / Mech interlocking.



OUTGOINGS:

ACBs or MCCBs, MCBs, Isolators 3/4pole.



BUS BARS:

H.C.H.D. copper, electrolytically tinned and color coded.



ENCLOSURES:

Electro galvanized sheet steel, polyester powder coated, with removable rear/side covers.