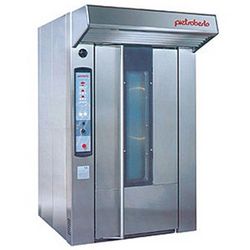 Rotary Rack Oven
Bakery Equipment Supplier UAE

New PBR-C, Rotary Rack Oven with rotating trolley completely built in stainless steel Aisi 304 and designed with innovative technologic solutions. The exclusive concept of the heat exchanger with a new air circulation system guarantee an high saving of money and the optimal baking of each bakery or pastry product.
Front oven of modern design with wide hood and door with double crystal and possibility to open the external one. Lock door system in two points with big vertical handle.