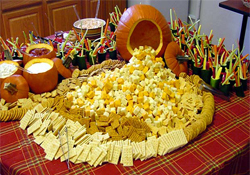 Industrial Catering / Off Shore Catering

The Industrial Catering section operates within many companies and industrial sites. Albert Abela is successful in its ability to operate within different segments of the industry whilst satisfying the diverse needs of the individual customers and clients.
At Albert Abela, we appreciate the enormity of time and economic constraints that Corporate Management and Institutions are undergoing in ensuring the smooth operations of their Staff Canteen, Cafeteria, Guest houses, camps etc. It has however been observed that Poor Resource Management and Operational Ineffectiveness have constituted a great liability and Pain-in-the-Neck for these companies such that further involvement in Direct Catering is not the least justified!
Our Industrial Catering Services involves the provision of food and beverages on a large scale to corporate bodies and institutions in their cafeteria, guesthouses, and other specialized locations through the Installation and Technical Sustenance of Effective Operational and Stock Control Systems.
Albert Abela's Industrial Catering Division has continued its rapid growth in this competitive sector and provides a wide range of services to major prestigious companies in U.A.E.
For nearly thirty five years this division has been dedicated to the provision of services for clients in remote locations. Serving Oil and Gas Companies on both onshore and off shore assignments; Albert Abela can design and construct temporary and permanent housing. Additionally the company can provide all the necessary utilities and support facilities essential to camp life namely
Camp Construction
Housekeeping
Laundry
Janitorial Services
Facility Maintenance
Utility Maintenance
Whatever the size or nature of the operation, Abela adapt services to fit in with the clients requirements and to suit the unique conditions of individual projects. Whether the contract supports a small exploratory rig of a few working men or a large construction company with a workforce of many thousands, we apply the same high standards and attention to detail
Offshore Catering
Our staff can work with you in planning the catering issues of your project. We work with engineers, architects, logistics and materials managers, and craft specialists to help ensure that you are getting the maximum efficiency out of every square foot of your foodservice facility - and out of every budget Dirham. From engineering to production, we're involved in all phases of deepwater project activity. From engineering to production, we're involved in all phases of deepwater project activity.