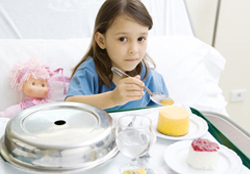 Hospital Catering
Albert Abela Sharjah has developed tailor made expertise of International excellence in all fields of Catering. With over 36 years of experience, Albert Abela Sharjah has the management, infrastructure and specialized expertise to provide the highest quality services in the healthcare industry. The Albert Abela Sharjah is the professionals choice in contract hospital services.
The unique conditions of a hospital or nursing home environment make extra demands on this type of commercial operation. The food must not only be prepared in a totally hygienic environment and to a very high standard, but also be synchronized to the special dietary needs of the individual patients and that is the challenge Albert Abela Co. Sharjah (L.L.C.) is meeting in its Hospital Services.
The Hospital Services have been developed to particularly meet the requirements of Multi Specialty Hospitals, Nursing hostels where quality service of highest standards is the paramount objective.
As required in this type of service Albert Abela provides understanding and expertise in nutritional ingenuity, which benefits the hospitals and nursing homes in providing professional service to the patients. In addition to the catering for the patients the company also offers various options in catering for the Staff and employees of the Hospital.
In our constant endeavor for better client service we have pioneered special diet plan and menus, which are creative and look positively appealing.
Food Production: Planning for kitchen from concept to commissioning stage and prescription of standard service specifications for regular operation and ensure that the diet order of the menu is produced as fixed by or ordered by the user.
Food Service: Regular monitoring of the efficiency of the system by regular on the spot supervision by the trained managerial staff and constant interaction with the Dieticians, Doctors and other medical staff supplemented by obtaining feedbacks from the users and ensure that the food produced is packed and serviced as per the time specifications.
Hygiene: Albert Abela Sharjah prepares food under hygienic conditions and renders services as per the requirements ensuring quality with minimal prescribed production.
Housekeeping / Laundry: The Operation of the Housekeeping Services to conform to norms by inputting high quality trained staffs, combined with standard, cleaning materials and equipments. No efforts will be spared to maintain the reputation of the healthcare organization and also of the service provider and ensure maintenance of highest standards without loosing sight of the quality requirements and need for the cost effectiveness.