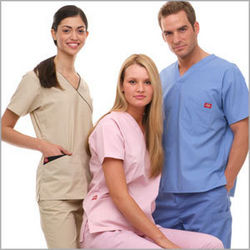 Hospital Uniforms
Hospital Uniform suppliers

We are the leading uniform manufacturers in Sharjah, UAE. We conceptualized, design and manufacture customized uniforms for corporate companies, hotels, school, hospitals & others.

We have a huge in house set up for embroidery of logos, designs and sayings on wide a variety of products including t-shirts, polo shirts, denim, jackets, aprons, blankets, horse saddle, caps, hat towels, bags and whatever. We also deal in printed cups, pens, mugs, pad folios, golf balls, CDs and hundreds of the other products for your business

We at Creative Line want to contribute and provide exceptional quality and standards to a sophisticated market. Uniforms made by us would suit the professional image of your organization.

We offer digital garment printing an exciting eco-friendly alternative to screen printing. Prints full color and supports photos, color gradient blends and feathering. Itís more durable and comfortable. And no set-up fees.