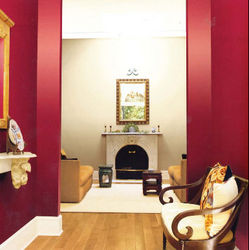 Italian Renaissance
A modern re-interpretation of the colors that distinguished one of the most fervid cultural periods in human history From the delicate light blues of the "Rafaellian" skies to the indecipherable and mysterious veiled hues of Leonardo da Vinci, without forgetting hints of the genial and crude brush-strokes of Michelangelo.
All of this is harmonized by luminous pastel tones that opened the spaces within the rooms of the elegant noble residences of times past.
Inspiration with antique origins, from which today emerges a current color proposal composed of classic colors, but which blend wonderfully with various genres of furniture because they capture lines, forms and materials of various natures, thus creating comfortable, yet highly elegant environments.