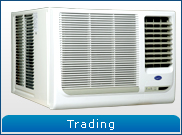 AIR CONDITIONING - MANUFACTURERS
Safario Group was established during early 1980ís in Dubai, UAE.

The Trading division, Safario Trading Company LLC, handles distribution of Sapphire brand air conditioner products, which includes window, split, ducted, package type air conditioners, water chillers and anything that is connected to HVAC industry. The group offers market expertise, solution and services in HVAC field. The group is led by a visionary management team and competent industry professionals.