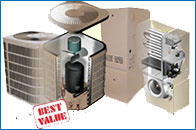 AIR CONDITIONING INSTALLATION & MAINTENANCE
We are at forefront of Air Conditioning Maintenance. We have enhanced several maintenance programs that guarantee economy, comfort and continuity. The company's Field Force, more than 80 qualified and skilled technicians, who have handful of experience and expertise in equipment maintenance are well groomed to give utmost service to our valuable customers. We allow all the systems to be electronically and automatically monitored by the service center, where factory trained engineers and technicians are on call throughout the day. To make sure that your equipment is maintained at maximum operating condition at all times, the Service Business

Unit at our Workshop has invested significantly in manpower and technology to care for our customers.